Despite opener Shubman Gill's fifth ODI century (121 runs), India had to face defeat by six runs against Bangladesh in the final Super Four match of the Asia Cup here on Friday. Thanks to the all-round performance of its spinners and captain Shakib Al Hasan, Bangladesh gave India a target of 266 runs to win and reduced them to 259 runs in 49.5 overs.
However, the result of this match will not matter for both the teams because India has already qualified for the final to be held on Sunday, in which they will face Sri Lanka. Bangladesh is already out of the Asia Cup. That is why India rested five of its first-choice players, Virat Kohli, Hardik Pandya, Mohammed Siraj, Jasprit Bumrah and Kuldeep Yadav, while making his ODI debut for Tilak Verma.
Due to this, Mohammed Shami, Prasidh Krishna, Shardul Thakur and Suryakumar Yadav were included in the final eleven. Gill played a memorable innings in difficult circumstances. Wickets were falling at one end and Gill took the responsibility till the 44th over, playing carefully against the spin attack of Bangladesh. There were eight fours and five sixes in his 133-ball innings.
Akshar Patel (42 runs in 34 balls) kept India in the race for victory by hitting some brilliant shots in the end. But could not save from defeat. After being invited to bat, Shakib Al Hasan (80 runs) and Tauhid Hriday (54 runs) took advantage of India's less sharp bowling attack and scored half-centuries, due to which Bangladesh scored a good score of 265 runs for eight wickets.
India did not have a good start and without opening the account, captain Rohit Sharma reached the pavilion by giving an easy catch to Anamul Haq on the ball of debutant Tanzim Hasan Shakib on the second ball of the innings. Tilak Verma could not do anything amazing in his debut and he also became a victim of Tanzim Hasan. In this way, India lost its second wicket in the third over.
KL Rahul (19 runs) was supporting Gill. While Gill batted fast and reached his half-century, Rahul was playing slowly. Wicketkeeper batsman Rahul could hit only two fours despite playing 39 balls, due to which he looked quite disappointed. In an attempt to play a big shot, he lifted Mehdi Hasan's ball straight to midwicket but could not time it correctly. And in the 18th over the Indian team got its third blow. In this way the partnership of 57 runs for the third wicket was broken.
Gill was batting well, he needed support at the other end. Ishan Kishan (05) came to the crease. During this, Gill completed his half-century by hitting a six on Mehdi Hasan. Kishan was seen struggling and could not stay at the crease for long. Kishan's innings ended when he tried to reverse sweep the ball of Mehidy Hasan Miraz, although the Indian batsman also took a review of it but to no avail.
Now all eyes were on Suryakumar Yadav (26 runs). The pitch was helping the spinners and they were bowling slower than the Indian spinners. Bangladesh bowlers made it difficult for Gill and Suryakumar to score runs, the effect of which was clearly visible on the run rate. Suryakumar started playing openly with ease and in the meantime played some risky shots which also scored runs.
Suryakumar was continuously trying to sweep every ball. Bangladesh's experienced captain Shakib Al Hasan, sensing this, bowled the right length and clean bowled him. Gill, who was moving towards his fifth ODI century, hit Mehdi Hasan Miraz at long on and two huge sixes over the bowler's head in the 36th over, taking the score to 163 runs for five wickets.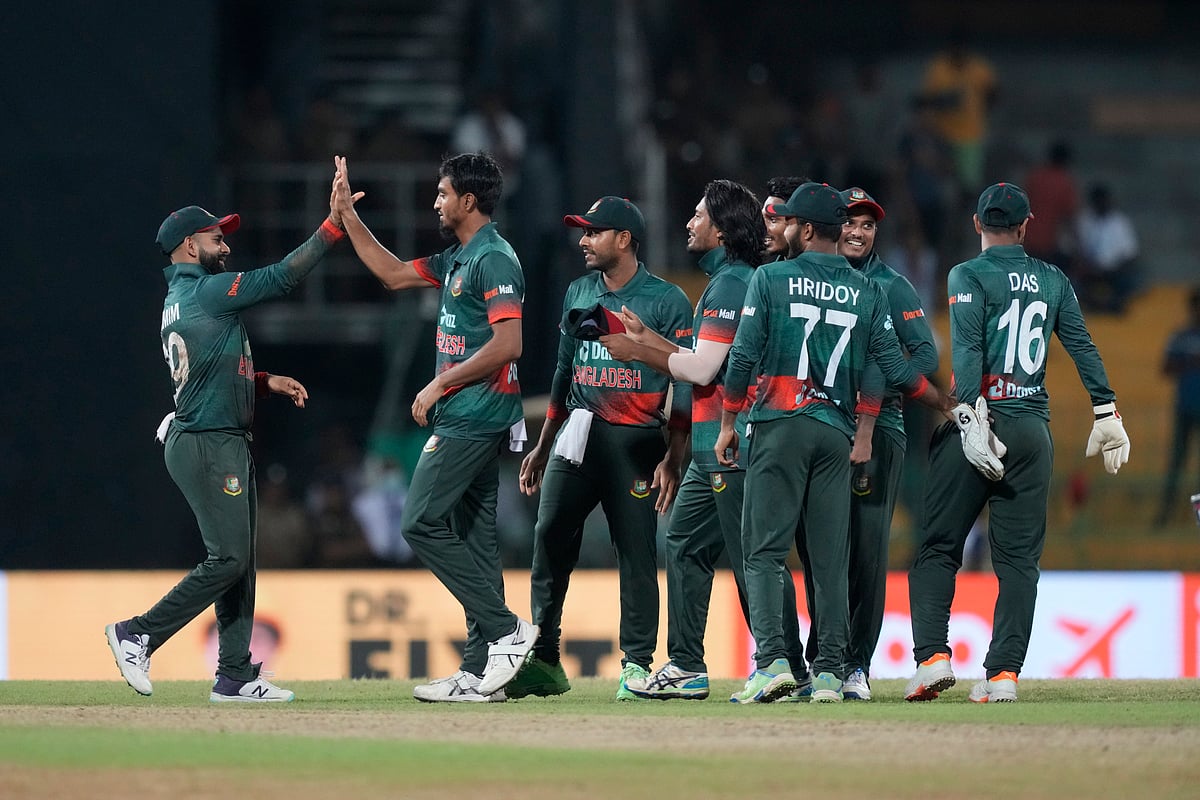 Ravindra Jadeja (07) could play only 12 balls and was bowled by Mustafizur Rahman due to which India lost the sixth wicket for 170 runs. Gill, after completing his century in the 39th over by taking two runs off Tanzim Hasan Saqib with six fours and four sixes in 117 balls, hit two fours in the same over, mid-off and square leg. After Gill's dismissal in the 44th over, there were hopes from Akshar Patel but he could not take the team to victory.
Earlier, Bangladesh had lost four wickets for 59 runs after being invited to bat, but Shakib supported the team by scoring 80 runs in 85 balls and Tauhid supported him well by scoring 54 runs in 81 balls. Indian all-rounder Jadeja (1 wicket for 53 runs) became the second Indian cricketer to score more than 2,000 runs and take 200 or more wickets in ODIs by taking one wicket.