Israel-Palestine Conflict: Amid Israeli air strikes on terrorist targets in Syria and the West Bank and the growing humanitarian crisis in Palestine, the second consignment of relief material reached Gaza. Meanwhile, Israeli Prime Minister Benjamin Netanyahu warned Lebanon's terrorist organization Hezbollah that if it started a war, "we will give it a blow that cannot even be imagined."
It is believed that Israel is preparing to launch a ground offensive in Gaza in response to the unexpected attack by Hamas on October 7. Tanks and thousands of soldiers have been mobilized on the border, waiting for orders. Israeli army spokesman Rear Admiral Daniel Hagari said that Israel has intensified attacks across Gaza to reduce the risk to soldiers in the next phase of the war.
Fears of a large-scale war in the region have grown amid the ongoing conflict between the two sides, as Israeli warplanes struck various targets in Gaza as well as hitting two airports in Syria and a mosque in the West Bank. Israel alleges that the mosque was being used for terrorist activities. Israeli Prime Minister Benjamin Netanyahu told troops in northern Israel that if Hezbollah started a war against Israel, "it would be a big mistake." Cannot be done. The consequences would be disastrous for it and Lebanon.
Hamas said it destroyed a tank and two bulldozers during fighting with Israeli forces near Khan Yunis in southern Gaza. Hagari announced late on Sunday that one soldier was killed in an anti-tank missile attack during an operation inside Gaza as part of efforts to rescue more than 200 hostages kidnapped after the October 7 attack. Three others were injured.
On Saturday, 20 trucks loaded with relief supplies entered Gaza after Israel imposed a complete siege two weeks ago. Israeli officials said late on Sunday night that they had given permission to send a second batch of aid to Gaza at the request of the US. COGAT, the Israeli defense body responsible for Palestinian civil affairs, said the aid included water, food and medical supplies and was inspected by Israel before reaching Gaza.
India on Sunday sent more than 38 tonnes of relief material, including medicines and medical equipment, to the people of Palestine. Indian Air Force's C-17 transport aircraft has left for Egypt's Al-Arish airport carrying relief material. Various international aid agencies have described the situation in Gaza as "terrible". After the massive attack on Israel by Hamas on October 7, the Israeli army is carrying out retaliatory air strikes on Gaza.
Foreign Ministry spokesperson Arindam Bagchi said that the relief material has been handed over to the Egyptian Red Crescent to deliver it to Palestine. Foreign Ministry spokesperson Arindam Bagchi said on social media platform 'X', "India has sent humanitarian aid to the people of Palestine. IAF C-17 carrying about six and a half tons of medical aid and 32 tons of disaster relief material for the people of Palestine left for Al-Arish airport in Egypt.
"The material includes essential life-saving medicines, surgical supplies, tents, sleeping bags, tarpaulins, hygiene items, tablets for water purification and other essential items," he said. Hours later, Bagchi said that in Egypt. Indian Ambassador Ajit Gupte handed over relief material to the Egyptian Red Crescent for sending to Palestine.
He said in another post, "India's humanitarian aid for the people of Palestine reached Egypt. Indian Ambassador Ajit Gupte has handed over the relief material to Egypt's Red Crescent for sending it to Palestine. The C-17 aircraft was sent from Hindon airbase near Delhi.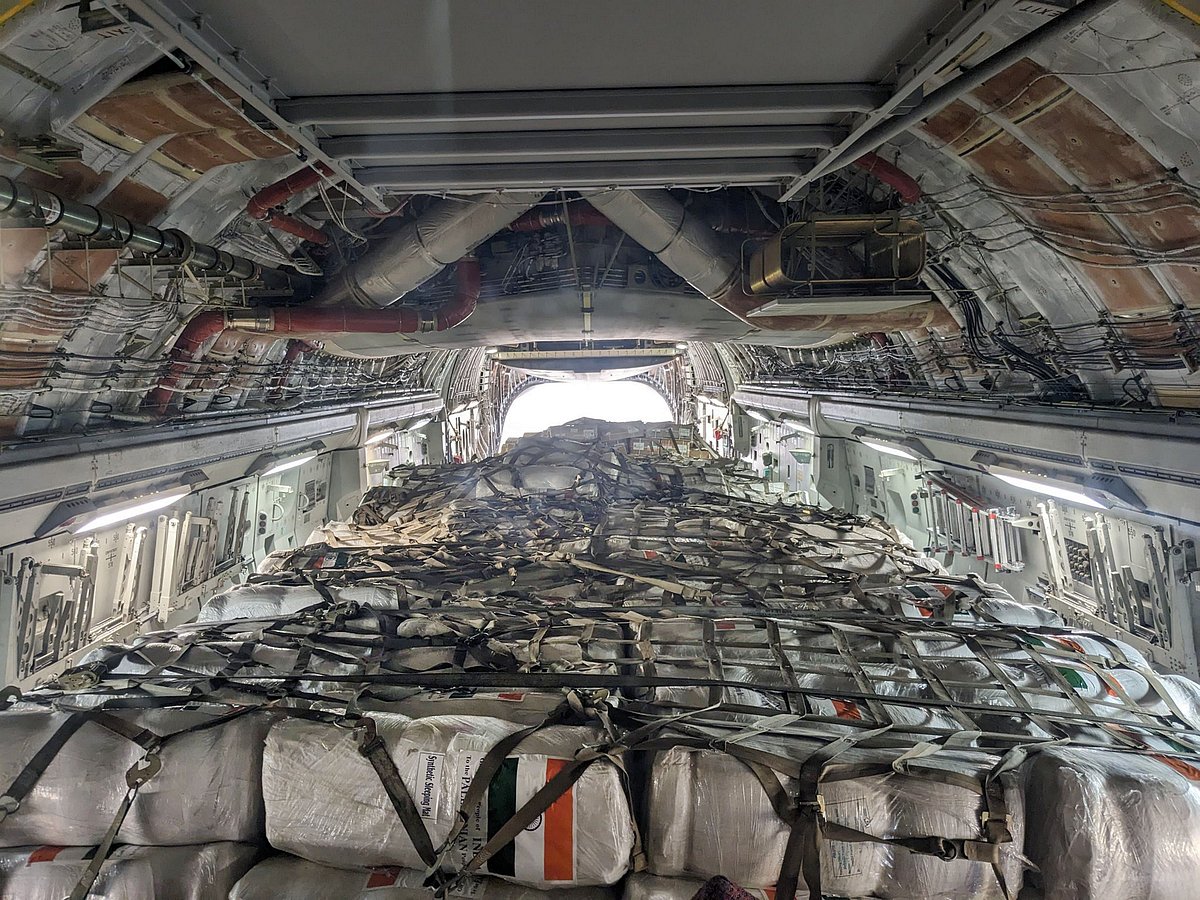 India has sent this aid three days after Prime Minister Narendra Modi expressed condolences over the death of civilians in a hospital in Gaza and reiterated India's long-standing 'principled position' on the Israel-Palestine issue. Prime Minister Modi on Thursday told Palestine Authority President Mahmoud Abbas that India will continue to send humanitarian aid to the people of Palestine.
The World Food Program (WFP) and the World Health Organization (WHO) were among five agencies that described the situation in Gaza as "catastrophic" in a joint statement. India has been supporting Palestine and Palestinian refugees through contributions to the United Nations Relief and Works Agency (UNRWA).