Road Trip by Buses: If you are planning to go on a road trip with your elderly parents on the occasion of Christmas and New Year, then you have many best options. You can choose hilly or coastal areas. There are at least 10 such cities in the country which can be visited through road trips. Gulmarg is on top among these cities. Apart from this, there are cities like Goa, Manali, Ooty, Wayanad, Delhi, Mumbai, Bengaluru and Puducherry etc., where a road trip can be planned. At the same time, if we talk about other cities of hilly areas, Dehradun, Shimla, Darjeeling etc. are also one of the major tourist destinations.
The biggest thing is that if you have elderly parents with you, it is important to have a comfortable journey for them. They need convenient washrooms etc. In such a situation, many luxury buses are available at cheap fares, in which kitchens, luxury bedrooms as well as comfortable washrooms are available. Come, let us know about some such cheap luxury buses, which can take your family on a comfortable road trip.
Caravan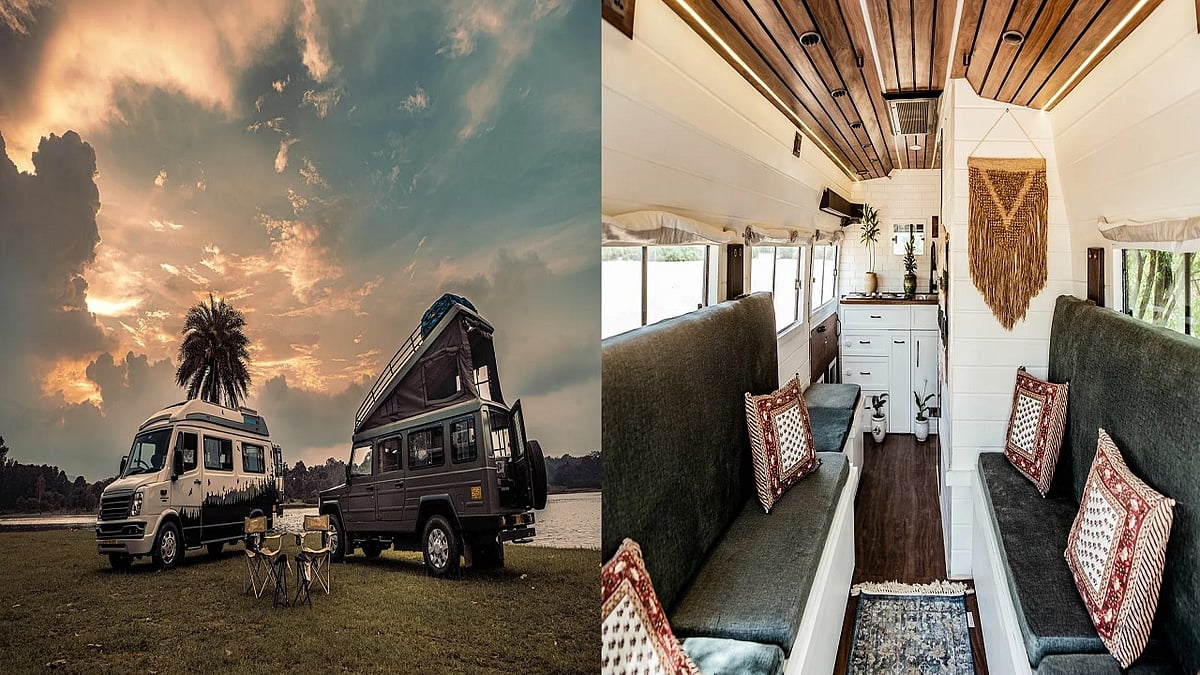 During the lockdown during the Corona epidemic, three friends Himanshu Jangid, Yogesh Kumar and Pranav Sharma started a bus company called Carva. Now these three friends are preparing a new base in Mumbai. Three different types of rooms are available in this bus for three, five and seven people. The kitchen is provided with a modular kitchen with LPG cylinder, kitchen utensils, a mini fridge, a barbeque grill and drinking water.
Depending on the size of the bus, it has sofa-cum-bed rooms, berths, roof top bunks and beds with bed linen. A mobile washroom is also provided with a shower, which can be deployed outside for taking bath in the open. Along with this, camping tent, camping chairs, stools and foldable table are provided. Air conditioner, LED ceiling lights and an inverter for power backup are also provided. If you hire this bus, you will have to pay Rs 5,500 per day as fare. Apart from this, you will also have to pay toll tax and diesel expenses.
Vehicle
This traveling company was also started as a private project by Ahmedabad-based industrial designer Moksh Gandhi during the pandemic. They have not only fixed fares for their fleet of buses but have also provided hyper-customisation. All their buses run on solar energy. The vehicle can be hired from Ahmedabad and delivered to the location of your choice. The campervan can be taken anywhere in India and the team will work to suggest locations for your itinerary.
This bus has three models, Roller, Warbler and Rosefinch, with a seating capacity of six to eight persons and sleeping capacity of four to five persons. In addition, this bus has a refrigerator, sink, induction kitchen with kettle, cutlery and cookware, linen bed, bathroom with shower, TV, foldable projector and Bluetooth speaker system, working desk with 120 volt power outlet and USB port, Outdoor seating arrangement with four chairs and a table, safety equipment including first aid kit and fire extinguisher is available. After taking this bus on rent, you will have to pay at least Rs 12,000 per day along with expenses like fuel, toll tax and road tax etc.
Carwander
Now if you want to go on a road trip with your pet animal, then you will get a luxury bus from Carwander. It is of two types. A maximum of six people can travel in the first type of bus and a maximum of eight people can travel in the second type of bus. This bus is equipped with coffee machine, generator and night vision camera. Apart from this, there is provision for living room, kitchen, bedroom and separate cabin for the driver.
With this bus you can travel to cities like Rajasthan, Himachal Pradesh, Jammu and Kashmir, Leh Ladakh, Uttarakhand, Delhi and Agra etc. It is provided with king size bed, four berth bed and bed linen. In addition, there is a kitchen with refrigerator, microwave, kettle, coffee machine, crockery, cooking utensils and two-burner gas stove, separate kitchen for cooking outside the bus and a canopy, washroom equipped with shower and geyser, For entertainment, facilities like smart TV, WiFi connectivity, fire extinguisher, GPS equipped night vision cameras and first aid kit are available.
This bus runs on solar energy. It also has a generator installed to provide backup. To rent it, you will have to bear around Rs 20,000 per day along with expenses like fuel, toll tax and road tax etc.