New Delhi: Assam The Government of Assam has decided to impose a complete lockdown in view of the increasing patients of corona in seven districts of the state. According to the information, complete lockdown has been announced in Goalpara, Golaghat, Jorhat, Lakhimpur, Sonitpur, Vishwanath and Morigaon. In these districts, the restrictions of lockdown will be applicable in the districts from July 7 and will remain in force till further orders.
See full guidelines here…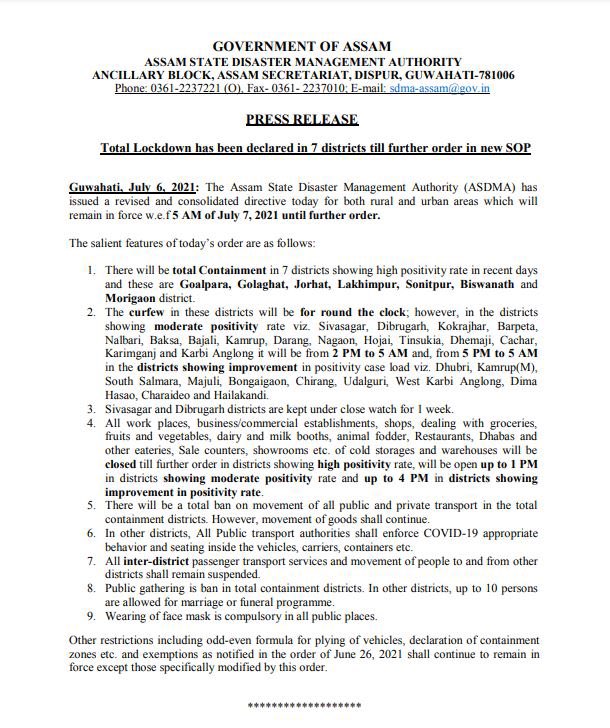 2,640 new cases of infection were reported in Assam, 31 more people died
After 2,640 new cases of corona virus infection were reported in Assam on Monday, the total number of infected in the state increased to 5,19,834, while the total death toll rose to 4,683 after 31 more people died. The highest number of 333 new cases were reported in Golaghat district. This was followed by cases in Sonitpur (233), Kamrup Metropolitan (197) and Jorhat (151).
On Monday, 2,640 people were found infected after testing 1,16,542 samples in the state. He said that at present 22,243 patients are under treatment in the state and 4,91,561 people have been cured after getting infected. So far 5,19,834 people have been found infected in Assam. So far, more than 76.85 lakh people have been vaccinated against Kovid-19, out of which 13.09 lakh have received both the doses.
Also read-
Coronavirus: Corona still remains deadly in these 8 states including Maharashtra and Karnataka
Know- In which 10 states including Delhi, Bihar, Jharkhand, the effect of corona has reduced completely?